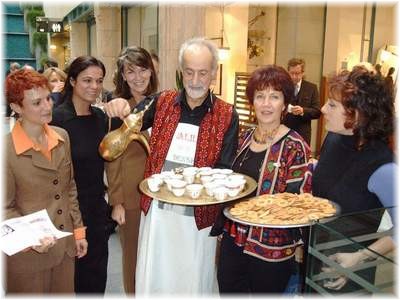 Ahlan wa-Sahlan,   

أهـلاً وسـهلاً




Welcome
This is an invitation to learn about the Peace-cook Jalil Schwarz

and his project in Israel
I come from the Arab city  Ramla  near Jaffa, which belongs to the state Israel since 1948, and I come from a Christian – Palestinian family, who lived in Ramle. In the year 1947 I and 14 other children from our boarding school in Nazareth had to leave my country and fled to Lebanon, at the age of eleven, without my family, who lived in Ramle. Some years later I came to Bethlehem and Jerusalem, where I spent 4 years.  (Bioraphy)
Since the end of 1954 I live in Germany, predominantly in Cologne, actually in Bergheim, Erftkreis, and I have German citizenship since 1967.
When I visited my hometown Ramle in 1985, I noticed that the level of knowledge of Arab children was very low. In order to change this, and to give the few Christians, about 2%, a better future and remain in the country as the basis of the church, I decided to help the community in  Ramle to build a secondary school. Thanks to numerous donors, help from the churches and benefits of my cooking activities in Germany, the school was built and finished in 1994. Actually, about 600 Christian and Muslim pupils visit it from class 5 to 12. Shortly after inauguration, it was visited by the former president of the EKD, Manfred Kock.
The building of a kindergarten for Jews, Christians and
Muslims in Israel , that was my dream.
From the numerous visits in Israel I had to learn that the gap between the Arab and the Jewish population has become larger, although they live next to each other. So it was my dream to build an bilingual kindergarten for Jews, Christians and Muslims. From an early age, the children in this kindergarten can grow up together in peace and learn to tolerate and accept each other. In spite of various intensive efforts, it has not been possible, for many different reasons, to make this dream of building a kindergarten come true.
                                    

HOPE IS THE LAST TO DIE
To follow our aim of fomenting the friendly coexistence of the children from early age on, the association "Abrahamszelt" has decided to support and finance a project for the education and training of child care workers together with the Kindermissionswerk  

"Die Sternsinger"

, Aachen. We work in cooperation with the 

"Hand in Hand"

  Organisation Center for Jewish – Arab Education in Israel (www.handinhandk12.org) located in Jerusalem. Our aim is to make the "Foundation for bilingual and multicultural education in child care" become reality.
Shalom (שלום), Salam

(

سـلام), Schlomo, Frieden, Peace, Paz,
Pace,
Мир
, Vrede, Pokoj, Shakti, Be´ke, Paix,
Fred, Rauha, Ειρήνη, शांति,和平
 
For more information contact:
Jalil Schwarz,   Palmenweg 58,    D-50127 Bergheim
0049 22 71 / 9 29 65
Mail: jalil_schwarz@gmx.de  *  jalil@friedenskoch.de
Bank Account:
PAX – BANK, Cologne
Konto Nr. 52 50 50 18, *  BLZ: 370 601 93
IBAN: DE05 3706 0193 0025 5050 18  *  BIC: GENODED1BAX