Peace Foundation
Jalil Schwarz – Peace Cook
Fund of "Sternsinger Foundation
The Foundation

Peace is only possible when we get to know each other: when we talk to each other and reduce fears and prejudices. Making peace is a long and painful path, which is always worthwhile to go. In the Holy Land the gap between peoples is still very wide, although the Arab and Jewish population have lived almost door-to-door for decades. The dream of the Foundation is that Jews, Christians and Muslims will again peacefully live together instead of only living next to each other.
Therefore the foundation "Peace Foundation Jalil Schwarz – Peace Cook" funds children and youth projects for the reconciliation between peoples and religions in the Holy Land, for "The children of today are the leaders of tomorrow". They can be ambassadors of peace and thus create a new future.
The Fouder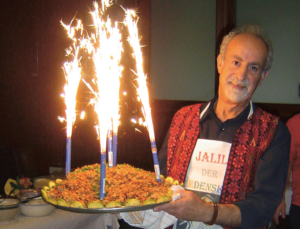 Jalil Schwarz is the "peace cook". The native Palestinian and Arab Christian has lived in Germany since 1954. The situation in the Holy Land has always been his great concern and he decided to do something about it. In 1985 Jalil Schwarz, a former teacher of electrical engineering, electronics and mathematics, started to cook on a honorary basis for different parties of 50 to 1.000 people all over Germany. With the proceeds of his cooking, donations and collections he was able to finance various peace projects in Israel and Palestine
For his commitment to the understanding and convergence between the peoples and religions, Jalil Schwarz was honored with the Federal Cross at the Band in 2001.
To reach the goal of international understanding and the peaceful coexistence of children of different religions the 1st April 2003 saw the foundation of the non-profit organization "Abrahamszelt – Friends and supporters of the interreligious education of children in Israel e.V.". The previous peace projects of Jalil Schwarz can thus be put on a broader base and purposefully bundled.
This work is now supported by the "Peace Foundation Jalil Schwarz – peace cook" on a permanent basis.
It is my DREAM
That one day in the Holy Land
Jews, Christians and Muslims
Peacefully live together,
respect and value each other.
You can support the "Peace Foundation Jalil Schwarz Peace Cook" with a donation. All donations will be used exclusively for the foundation. Your donation will help to actively support peace projects.
many thanks, Schu-Kran, (شكرا ) toda`

(תודה)
Donation Account:
Pax-Bank eG
IBAN: DE 88 3706 0193 0000 1091 18
BIC: GENODED1PAX
Reason for transfer:
External Donation/Donation: Peace Foundation
Jalil Schwarz – Peace Cook
More informations:
"Peace Foundation Jalil Schwarz – Peace Cook"
Fund of 'Sternsinger Foundation'
Stephanstr. 35 D 52064 Aachen
Tel.: 0049 (0)241 44 61 9225
E-Mail: kontakt@sternsinger-stiftung.de
Jalil Schwarz Palmenweg 58 D 50127 Bergheim
Tel.: 0049 (0) 2271 929 65
E-Mail: jalil@friedenskoch.de ; or jalil_schwarz@mail.de