German

youth

and

Arab Christians

work together
Cooking for the construction of a community center in Ramla
Approx. 20% of the people in Ramla (nr. Jaffa, Israel) are Palestinian with Israeli citizenship. Of these, approx. 8% are Christian (Catholic, Protestant and Orthodox). .
In 1985 I visited my home parish in Ramla to celebrate Easter. This feast is a very big event for the Orthodox parishes. Lamb barbecues feature strongly after the long fast without indulging in animal products.In Arabic there are a number of appropriate names for Easter such as: "the biggest Feast, the Feast of Feasts " (´Id al-kabier) or "Feast of Resurrection"(Ìd al-Qiameh
The festivities, however, took place in the assembly hall of an Israeli Grammar School. There were plenty of people, but the atmosphere wasn't right to celebrate the biggest feast. When I asked why people were celebrating here and not in the community facilities, after the feast my brother showed me an abandoned construction site and told me its story. In 1975 the Orthodox Christian parish started building a new community centre. This was absolutely vital for the cultural and religious identity of the Christian minority in Israel. Because of the economic situation in the country (inflation) and the subsequent official requirement to allow for a bomb-proof cellar construction could not be continued for financial reasons. I was rather shocked about the result, this half-finished, abandoned site.
My brother then asked me to do something for the Christian community in my hometown so that the Feast of Resurrection could be celebrated in happier, more dignified circumstances.
Hand in hand

in the

team Spirit
After my return to Cologne I could not rest. At the time I – as an Orthodox Christian – was very committed to the idea of ecumenism and had many contacts with Protestant and Catholic clergy and I believed that I could obtain financial help for the community centre that way. Unfortunately there was no money allocated anywhere.
So I thought what I myself could do in this situation, and,
of course, cooking was the answer.
I knew that every parish organises an annual community party, with pea soup and sausages. I had the idea of offering the "biblical lentil dish", a very old recipe, at events like this. This was the beginning of the idea.
A Protestant priest from Klettenberg (a suburb of cologne), who had visited the Holy Land several times, let me cook for 50 people after mass. The people in the parish were very enthusiastic about this idea. As a result I was literally "handed on" from parish to parish.
Three months later another priest asked me whether I could cook for 1000 people at a youth festival he was planning. But the food had to be there right on time. I told him that I would agree if he could organise five people to help me, big pots and a big kitchen. I'd also need a car to deliver the food on time.


Luckily he called me shortly afterwards to tell me that there would only be 500 people I would have to cook for. I was relieved about this news, since I was not quite sure how much I would need for so may people. But I did know that I would need a great many onions. So I bought 80 kilograms of onions and with five ladies helping me peeled and cut them ….. and wept.

I had bought 120 l of milk from a farmer, and prepared joghurt from a recipe of my mother to make zaziki.

In short, I presented the dish on time, as requested, and everybody was very happy. The news travelled to other parishes and I received many further invitations to cook.




Three months later a priest called me to ask, whether I could cook for 175 guests and could also offer another dish apart from the biblical lentil dish, which she knew well and liked. I created a complete menu with a "communicative starter", 3 main dishes, a tomato

and cucumber salad, tzatziki created from home-made curd cheese, to be followed by home-made cake and Arabic coffee (coffee with cardamom from Jerusalem).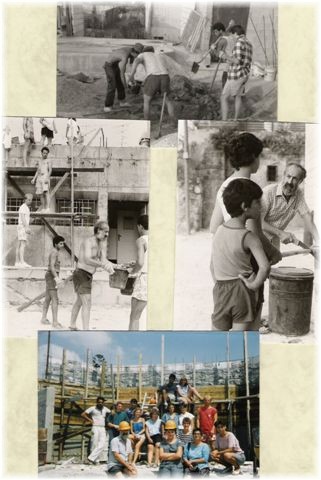 The guests were so enthusiastic that I was invited to cook at all sorts of festive occasions all over Germany: e.g. birthday parties, weddings, community parties and some church congresses, with anything from 50 to a 1000 people attending.
In this way I was able to save approx. 20.000,00 Marks in the course of three years. Then I organised for a group of youths to accompany me to Ramle. There were seven women and three men from Northrhine Westphalia, between 20 and 26 years of age. The German girls were staying with Arab families who had daughters in the same age bracket. It was agreed that the sheltered daughters should help with the construction work, too. This made for a well mixed work group.
The aim was also for the young people from Germany to experience the social, cultural and religious aspects of the way of life of the Christian people in Ramle for three weeks.

We used the money to buy bricks, cement, sand etc. and worked on the construction together
with two bricklayers from Gaza. After two weeks, we raised the foundations about two meters.
Together, we spent the weekends on different excursions. The first weekend we went to Bethlehem and Jerusalem, there we had a Taize prayer with the Arab Lutheran Congregation (Erlöserkirche) and were even given an audience with the patriarch of the Orthodox Church in Jerusalem. The second weekend was a trip to the Sea of Galilee and the third we rested on the beach in Tel Aviv.
It was an extraordinary, interesting and challenging encounter for all of us.
A year later I went again to Ramle and saw that the walls had grown up to 5 meters. I was very surprised and asked if they had engaged more

bricklayers to continue working. They said NO

"

you showed us that we could do something and

decided to continue working in our spare time

on Friday afternoon and Saturday". I was very moved and thanked God hearing that.
It was an extraordin

ary, interesting and challenging Encounter.
So after some years the community centre was finally inaugurated in 1991.