There is a small anecdote about the building of this school: as far back as 1985 I noticed that the level of education was far lower in Arab schools than in Jewish ones. I once put this arithmetic problem to a girl in 5th grade: "What is 6×7?" "We haven't learnt that yet," she said. "But surely you can add up?" "Yes, I can." "So, what's 12 plus 13?" "Hmm…..27?" This made me wonder
When the community centre was completed in 1991, I had to think about the little girl again and her problems with the addition.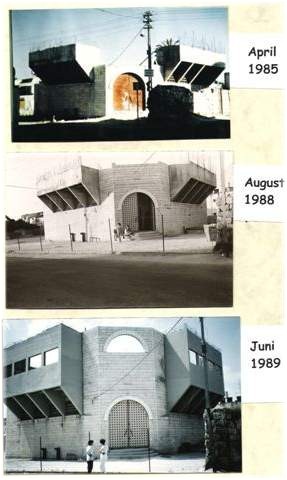 In order to get young people to stay in the country and act as "living stones" and contribute to the welfare of society they must be offered better prospects for their future, also implying much improved school education. This view was also shared by the municipal council and with my financial support it was decided to add two further floors to the centre and start a
gammar school.
I made it possible that the grammar school was equipped with DM 90.000 (about US $ 45.000) worth of 10 complete practice sets for the Physics, Biology and Chemistry lessons. I also managed to obtain used chairs and pieces of sports equipment.
Thanks to generous donations (one anonymous one amounted to DM 40.000 (about US 20.000$) alms, initiatives by the Christians in Ramla, plus proceeds from

my cooking

activities, this school building was finally finished, equipped and inaugurated on October 1. 1994. A week later, the chairman of the Lutheran Church of Germany Reverend Manfred Kock and Reverend Renate Graffmann visited this school.
Actually, more than 600 students (

Christian and

Muslim) from grade 5 to 12 visit this school. The performance is very high and it has a high reputation in the area.

Reverend Manfred Kock
with Pastor Renate Graffmann

(from left)