Hummos – a Communicative Starter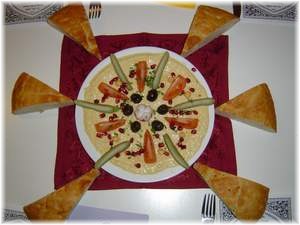 I n g r e d I e n t s
200g chickpeas
3 cloves of garlic
juice of 2 lemons
150 ml sesame paste Tahina)
50 ml chickpea water
3 tablespoons olive oil
1 teaspoon of salt
Garnish with tomatoes, gherkins, radishes, parsley, some cooked peas and, if available, sour pomegranate seeds (s. illustration)
M e t h o d :

Cover chickpeas with cold water and soak over night. Boil chickpeas for about two hours till they are very soft. Strain off the water, keep a few chickpeas for decoration and  finely purée the cooked chickpeas and cloves of garlic in the mixer. Mix lemon juice, oil, salt, pepper, cumin and garlic with the Tahina in the mixer. The mixture must be of dropping consistency, so add some water gradually and season to taste.
Pour the sauce over the chickpeas, mix well and allow to cool.
Put 4 tablespoons of the mixture onto a plate and decorate.
Humus tastes best eaten by hand with Arab bread or with Turkish pita. Since many people eat from the same plate, it should be eaten with small pieces of bread only.
 Jalil  "the peace cook"  hopes you enjoy your meal. Salam!